Offering a helping hand at the ASHA Centre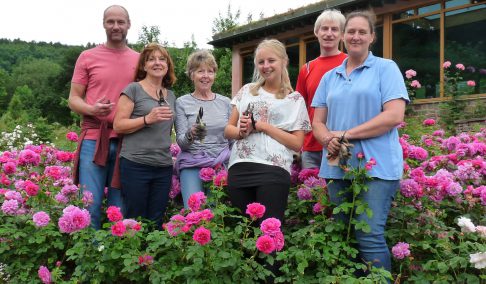 Eight members of staff from Two Rivers Housing volunteered their time to help out at the ASHA Centre in Mitcheldean as part of the "˜Helping Hands' project.
The team worked hard removing old blooms and tidying extensive rose beds that are set in the five-acre bio-dynamically cultivated gardens. They also collected the petals which the Centre are going to use to make rose oil.
Helping Hands gives each staff member a day out of their normal working hours to help other organisations and charities within the communities it serves.
Marlene Alford, Home Ownership Officer at Two Rivers Housing, commented: "We had a really rewarding day. It was great to help out at the ASHA Centre and support the wonderful work they do there. This is our second visit as part of the "˜Helping Hands' initiative and, as usual, we were made to feel very welcome. The centre is just beautiful, the scent of all the roses was amazing, a good day for the body and soul! "
Steve Etter, Centre Manager at the ASHA Centre, added: "A huge thank you to Two Rivers from everyone here for everything the group did. Our gardener was so pleased with them and what they achieved, a great day."
People of all ages come from around the world to benefit from the ASHA Centre – an educational charity that focusses on empowering young people through community, land and arts-based activities.