On the Wright track!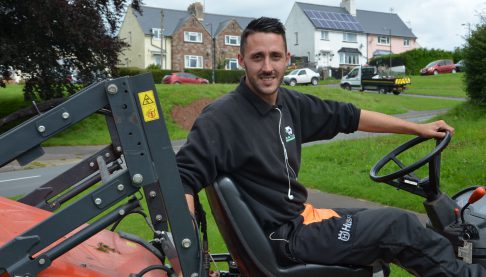 A young Aylburton father is pursuing his dream career, and Two Rivers Housing and Centigen are supporting his journey.
Dad-of-two Leighton Wright has his sights set on being a Chartered Quantity Surveyor and is doing everything he can to achieve it, including changing jobs and studying part-time to gain the necessary qualifications.
First of all he juggled a part-time access course with long working hours as a head chef, and now he's joined the Centigen grounds maintenance team and started a four-year degree course in engineering.
Leighton (31), is being supported in his ambitions by the TRH David Garnett Bursary. Last year he applied to the fund for financial support and was granted an award to help pay for materials he may need to further his studies.
The bursary also offers him access to Two Rivers staff for mentoring support or work experience he may find useful as he progresses.
"I wanted to change direction in my career for a long time but it's particularly hard with a young family," explained Leighton. "However, I just needed to take the plunge and I'm so pleased I have.
"I'm really enjoying working with the Centigen team, which is more relevant to my future work ambitions than being a chef, and I'm getting on well with my studies.
"There's still a long way to go, but I have been getting 85% or more in all assignments to date which, in examination terms, is a "˜distinction'.
Applications are now invited for the next bursary allocations. All Two Rivers Housing tenants, and members of their immediate family who live with them, are welcome to apply. More information and an application form can be found on the 'David Garnett Bursary' page under the main 'Careers' heading. Closing date is 1 December.