Two Rivers staff help out at the Orchard Trust.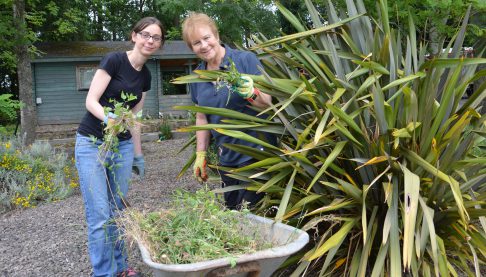 Six members of staff from Two Rivers Housing volunteered their time to help out at the Orchard Trust in Lydbrook as part of the "˜Helping Hands' project. The project gives each staff member a day out of their normal working hours to help other organisations and charities within the communities it serves.
The Two Rivers team worked hard, staining fencing and benches as well as clearing weeds and helping to spruce-up the centre before its Summer fair on 9th July.
The Orchard Trust is an independent charity based in the Forest of Dean that provides a wide range of services to meet the needs of people with disabilities in Gloucestershire and the surrounding areas.
Sue Barter, Executive PA, commented "It was a rewarding experience, being able to help out at the Orchard Trust. It is a very special place and my colleagues and I were just pleased to give them some time and help with the grounds.
It is an independent charity, which really needs the help of volunteers. It would be great if more companies offered their employees' time in the same way as Two Rivers Housing."
Phill Hucks, Project Manager added; "It is a pleasure to have keen and committed volunteers like the Two Rivers staff and it was a very enjoyable and productive day. The centre looks much neater and tidier and the benches look very welcoming to new visitors".