Tufthorn Avenue, Coleford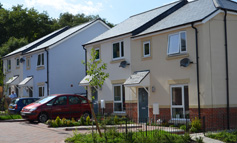 The redevelopment of Tufthorn Avenue, Coleford was a major project involving temporarily re-housing 34 of our tenants to allow us to carry out extensive refurbishment of their homes.
The project was born after a structural survey showed the properties were suffering from structural defects caused by weak mortar, failing the national Decent Homes standard.
Many of the original tenants wanted to return to the brand new home which replaced their old property, and they were able to influence the interior design and layout of their new home. The first residents moved back in spring 2013, and all the properties were occupied later that year.
Through careful design we gained 43 two, three and four-bedroom homes from the project for social and affordable rent – increasing the available properties in the street by nine.
The main contractor was Lovell Partnership Homes Ltd and the homes were built to the Code for Sustainable Homes Level 3.