Orchard Place, Stonehouse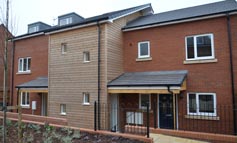 This is one of our most exciting recent projects as it's the first time we have built to our 'flexible' concept –  specifically designed to be able to adapt to changing needs.
These one-bedroom homes are built to a very high quality and higher-than-average space standards, offering between 57m2 and 61m2 of floor area, which is roughly equivalent to the average private house-builder's two-bedroom flat.
But their unique design means they can be readily adapted for the future to reflect letting and benefits policies changes as well as customers' aspirations.
This innovative step comes in response to current high demand for affordable one-bedroom homes. Yet, acutely aware of how trends can change, we have taken a longer-term view of people's needs and designed a unique living space that can convert to offer two bedrooms with minimal disruption.
We have built a total of 11 flats over three storeys on the site of a former bakery in the centre of Stonehouse. Six of them follow this new, flexible design and you might like to read more about what we have done, and our reasons for this approach.
The flats were designed by Quattro Design Architects and Aqua Construction Ltd was the main contractor who built them.
They completed in February 2015 and were all occupied by the end of the first month.