Onslow Road, Newent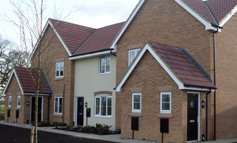 Newent is a popular and growing town and we bought 88 new homes from David Wilson Homes and Linden Homes.
Their construction was funded by the Government Kick-Start programme which encouraged developers to build on sites that had been left standing when the recession hit.
We bought a mixture of one and two-bedroom apartments and two and three-bedroom houses, to be let at social rent. They were released over a three year period, and we took the final properties from the developer in December 2013. All were built to Code for Sustainable Homes Level 3.