An update on our grass cutting programme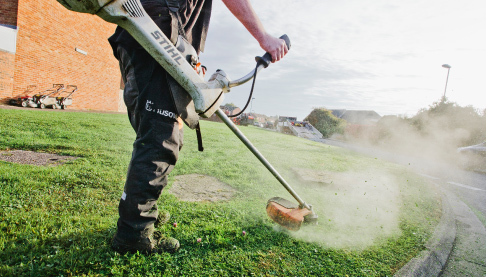 Updated on 27 June 2023
Following a successful recruitment campaign, we are pleased to announce that our ground's maintenance team is now fully operational.
Over the next few weeks, the team will be working hard to get on top of our grass cutting programme and learning their routes.
Did you know….
Each year our ground's maintenance team cuts more than 3.5million square metres of grass over the summer months – that's the equivalent of 420 rugby pitches!
So, if you see them out and about in our communities give them a wave!
Updated on 31 May 2023
Firstly, we would like to apologise for the delays in our grass cutting programme for 2023.
Our grass cutting programme usually starts in April however, there has been some significant disruption to our programme this year. While we are working hard to resolve this as quickly as possible, this does mean that we have already missed some cuts this year.
We know that this has caused some frustration in our communities and would once again like to apologise for this.
What are we doing to put things right?
We have increased the size of our ground's maintenance team. Our new Centigen team members will be joining us shortly, so please give them a warm welcome when you see them on our estates.
We have appointed a local contractor to help us get back on track with the current schedule over the coming months.
We are also using feedback from our Challenge & Change Group and Your Views Facebook Group to look at how we can improve how we share information about this service going forward.
What does this mean?
Unless there is a specific health and safety risk, we will be unable to reschedule missed cuts. We will continue with the current schedule as planned; this means that there may be a longer delay in the grass being cut in your community.
What about my service charges?
We recognise that grass cutting forms part of the service charge that some tenants pay and will be reviewing the service delivery at the end of the cutting season. After this, we will write to all affected tenants and outline what we intend to do for those that have not received the full service.
We will not be able to provide any further information on this before the review has taken place.
We want to ensure that our communities are places people are proud to live in and understand the importance of having well kept, tidy estates. We recognise that we have not met this expectation and will be working hard to meet the standards that both we and you expect.
Thank you for your patience and understanding in this matter.